All professionals at Price Family Dentistry maintain the highest levels of accreditation and pursue ongoing education to stay abreast of the latest trends in the medical field. Read on to learn more about our staff's experience and training.
---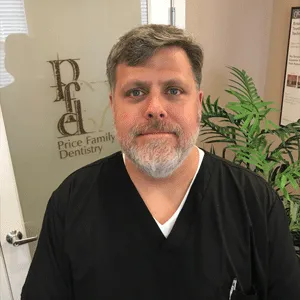 James R. Price, D.D.S., P.C.
A native of Arkansas, Dr. Price attended Arkansas Tech University for his undergraduate studies, before earning his Doctorate in Dental Surgery from the University of Tennessee – Memphis in 1995. With over 20 years of private practice experience, Dr. Price is dedicated to building lifelong relationships with his patients by combining the latest dental technology with compassionate and professional staff. Dr. Price and his wife, Tracy, moved to Georgia in 2005. He and his wife reside in Douglas County and have three daughters: Allison, Lindsay and Carsyn. In his spare time, he enjoys watching football, especially college ball, going to Atlanta Braves baseball games, traveling and most of all, spending time with his family. One of his favorites is watching his girls play basketball and volleyball. Give us a call or send us an email, Dr. Price would love to see you to discuss your dental needs and wants.